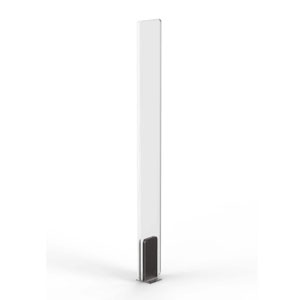 MetalGuard
Features:
Basic detection

Metal detection

Door filter algorithm

Adjustable sensitivity

Small controller box

Multiple unit power-up

(633 Kb - this will open a new window/tab)
Metalguard features:
1. Metal detection: Metalguard detects all foil lined bags, both build as bags, jackets, pockets and children's pushchairs.

2. Door filter: The door filter allows installations starting from 70cm away from the moving door. This will eliminate any false alarm from moving doors.


Benefits of using Metalguard:
1. Detecting foil lined bags at the entrance, before the foil lined bag is actually used for theft.
2. Deterrence and avoiding organized retail crime gangs (ORC) in the retail shopping environment.
3. Avoiding employee confrontations with organized retail crime gangs.
The ROI for the retailer's, is in general less than 12 months. Less than 5 foil lined bag apprehensions, will match the cost of a Metalguard installation.
Foil lined bags are used for heavy shoplifting by all organized retail crime gangs. They use these bags in order to shield detection of tags and thereby the not activate the EAS alarm, when leaving the retail store with stolen goods.
With 20 years of experience in this field and more than 100.000 of antennas installed globally, Alert Systems is the producer with the most experience in detection of foil lined bags.

Foil lined bags, best way to shoplift:
Although foil bags are the most common used tool, most retailers are unaware of the problem. The reason is that these bags are made by professional shoplifters and the actual theft does not leave any traces: No opened tags, no cut pins – only empty shelves and empty hangers.
What is a booster bag?
Shoplifting with foil bags is a daily activity for organized retail crime gangs. Foil lined bags can also be covered as many different types. Organized retail crime gangs are building these bags very creatively; children's pushchais with no babies, jackets, bags and regular clothes.
An effective tool
The advantage of using a foil lined bags for shoplifting, is that shoplifting will take less than 30 seconds. Furthermore no EAS system is able to detect a security tag inside a professional foil bag and it takes only seconds to fill up the bag with expensive merchandise and walk undetected out of the store. Professional foil bags look similar to any other retail bag from e.g. Prada or Louis Vuitton. And to identify these bags you need a metal detector.