Discreet Detection Systems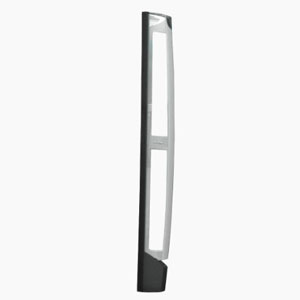 Discreet Detection - DoorMax
The Door-Max features Sensormatic AM EAS technology in an attractive, slender antenna to protect exits up to 1.8m (6ft) wide. Attached to door frames, glass and other surfaces, this detection system compliments any store decor whether in a shopping mall or a stylish boutique. The Door-Max is compatible with Sensormatic auxiliary receivers for a cost-effective alternative with comparable detection performance. The integrated audio and visual alarms notify store personnel if protected merchandise passes through the detection zone.
Door-Max provides in-store EAS and Traffic Intelligence when connected to a compatible data management device to better manage store operations.

(950 Kb - this will open a new window/tab)
Specs
Technology:
Acousto-Magnetic (AM)

Dimensions:
Height: 183.9cm (72.4in)
Width: 24cm (9.4in)
Depth: 4.4cm (1.7in)

Weight: (w/cover)
11.6kg (25.5lb)

Regulatory Compliance:
This product is in conformity with RoHS II Directive 2011/65/EU and REACH Substances of Very High Concern as defined in Regulation (EC) No 1907/2006 and subsequent amendments to both.