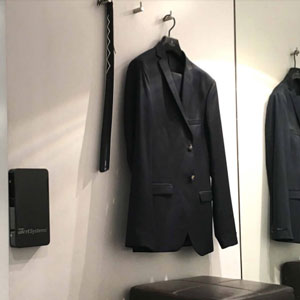 ApparelGuard
Features:
Magnet detection

Tx / Rx configuration

Sleek design

Small controller box

Multiple unit power-up

(502 Kb - this will open a new window/tab)
Apparelguard features:
1. Magnet detection: Detection of all magnets

2. Double detection: Double detection allows the retailer to chose between 2 detection modes, to avoid any false alarms from handbags, shoes etc.

3. Small high gloss black antennas: Wall mounted antenna, produced in high gloss black material, to welcome a high-end look/feel for fitting rooms.


Benefits of using Apparelguard:
1. Detecting illegal magnets at the entrance to the fitting rooms, before the magnets are used for theft
2. Deterrence and avoiding organized retail crime gangs (ORC) in the retail shopping environment
3. Minimizing employee confrontations with organized retail crime gangs
The ROI for the retailer's, is in general less than 12 months. Less than 5 apprehensions will match the cost of a Apparelguard installation.
Magnets are used for heavy shoplifting by all organized retail crime gangs. They use magnets in order to remove tags and therefore not activate the EAS alarm, when leaving the retail store with stolen goods. Usually the tags are left behind the fitting rooms, or mounted to other fashion items.